Power Station
Taking advantage of our continuous innovation in clean combustion technologies, Yongxing Group provides high temperature high pressure steam boilers for power plant, cogeneration, CHP.
Why Power Plant Needs Boiler?
Demand for electricity continues to rise as world economies grow and increase over time. Most power stations in the world burn fossil fuels such as coal, oil, and natural gas to generate electricity. A boiler is a device used to create steam by applying heat energy to water, as one of the three largest host equipment of thermal power plant, is developing rapidly with the rapid development of thermal power industry.
Unlike the boilers for industrial application, the utility boilers are often of larger capacity. And water tube boilers are usually installed in power stations. Circulating fluidized bed boiler, waste heat recovery boiler and power plant boilers are water tube boilers for power generation. They are optimized for best performance and highest reliability; they are made to the largest sizes that the grid can bear and to the highest steaming conditions that give the best efficiency, so that the power generation is the most trustful and least cost.
Owing to our industrial experts and engineers team, we are able to live up to the expectations of the customers by offering industrial & utility boilers that deliver robust performance and high efficiency.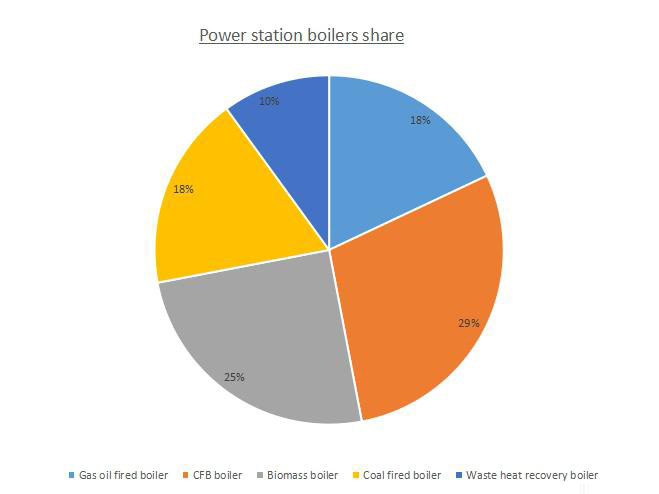 Types and Specifications of Boilers Suitable for Power Station
CFB Boiler

Capacity: 6t/h-50t/h 4.2mw/h - 35mw/h

Pressure:0.7Mpa-3.82Mpa

Fuel:Coal, Biomass pellet, Rice Husk, Bagasse, etc.

Circulating fluidized bed boiler is a new efficient, low-pollution technology of clean coal boiler, the main features of the boiler furnace with a lot of material, in the combustion flue gas in a large number of materials are carried to the upper chamber, through the arrangement In the separator furnace exit, the materials and gas separation, and after non-mechanical valve will be sent back to materials will be sent to bed, repeatedly looping combustion.
SZL Double Drums Automatically Boiler

Capacity: 4t/h-20t/h 2.8mw/h - 14mw/h

Pressure: 0.7Mpa-2.5Mpa

Fuel:Coal, Biomass pellet, Rice Husk, Bagasse, etc.

SZL water tube shop-assembled (assembled) boiler has 2 vertical steam drums, and the innovative horizontal cyclone-fired combustion chamber, which could effectively enhance the thermal efficiency and reduce the flue gas emission concentration.
WNS Single Drum Smoke Tube Boiler

Capacity: 0.5t/h-20t/h 0.35mw/h - 14mw/h

Pressure: 0.7Mpa-1.6Mpa

Fuel: Natural gas, lpg, Light Oil, Diesel, Heavy oil,dual fuels.

WNS series gas/oil steam boiler smoke gas three pass and wet back structure, achieve high thermal efficiency (98%) . This is fire tube boiler, low water quality requirement, the failure rate is lower than 0.1. Adopts international excellent burner, PLC automatic control cabinet, and safety interlock device, operate safely and conveniently.
How to Select a Proper Boiler for power station
1. Determine the capacity of the boiler. The boiler capacity should based on the Heating Load Curve or Heat Balance Diagram, and includes the heat loss in pipelines, self-used heat of boiler room, available used waste heat. While, usually, it is difficult to get the Heating Load Curve, the heating load could get based on the max thermal consumption per hour within production/heating/domestic, and then determine by using the coefficient.
2. Determine the boiler heating parameters, including pressure, temperature, etc.
3. Determine the boiler efficiency. In order to benefit for economic management, the boilers should have high thermal efficiency, and the boiler output, quantity and other performances have to adapt to the change of heat loading.
4. It is better to select the boilers with same capacity or combustion equipment. If different, the max limitation is two models, to decrease the problems of equipment layout and management.

Previous: Hotels Industry

Next: Pharmaceutical Industry