Food and Beverage industry
Steam boiler for food industry is used in the process of distillation, sterilization, disinfect, extraction, drying, and curing, packing, etc. The boiler should be clean and environmental protection, so, it is better to use the clean energy as the fuel, such as natural gas, biomass fuel, and electricity.
Compared with other fuel, gas fuel boiler has the advantages of low pollution, it uses fuel channel, storage room is unnecessary, save land usage and low infrastructure cost.
Biomass fuel is a new type clean energy with low cost. The source of solid biomass fired boiler fuel is widespread, it could be wood chips, bamboo chips, straw, rice hull, peanut shell, bagasse, mustard stalk, cotton stalk, cotton seeds, coconut shell, corncob, waste cloth, etc.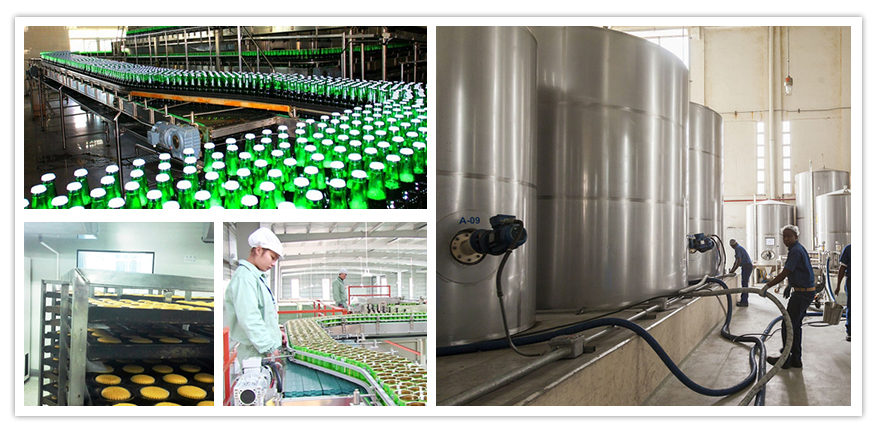 Types and Specifications of Boiler Suitable for Food Industry
WNS Single Drum Smoke Tube Boiler

Capacity: 0.5t/h-20t/h 0.35mw/h - 14mw/h

Pressure: 0.7Mpa-1.6Mpa

Fuel: Natural gas, lpg, Light Oil, Diesel, Heavy oil,dual fuels.

WNS series gas/oil steam boiler smoke gas three pass and wet back structure, achieve high thermal efficiency (98%) . This is fire tube boiler, low water quality requirement, the failure rate is lower than 0.1. Adopts international excellent burner, PLC automatic control cabinet, and safety interlock device, operate safely and conveniently.
SZL Double Drums Automatically Boiler

Capacity: 4t/h-20t/h 2.8mw/h - 14mw/h

Pressure: 0.7Mpa-2.5Mpa

Fuel:Coal, Biomass pellet, Rice Husk, Bagasse, etc.

SZL water tube shop-assembled (assembled) boiler has 2 vertical steam drums, and the innovative horizontal cyclone-fired combustion chamber, which could effectively enhance the thermal efficiency and reduce the flue gas emission concentration.
Vertical Electrical Steam Boiler

Capacity: 0.5t/h-20t/h

Pressure: 0.4Mpa-0.7Mpa

Fuel: Electricity.

Vertical electric boiler is a kind of high thermal efficiency and environmental protect boiler. The thermal efficiency reaches as high as 99%, and there is no NOx released to the air. The electric boiler with steam capacity lower than 1ton is designed as vertical structure.
How to Select a Proper Boiler for Food & Beverage Industry
1. Determine the capacity of the boiler. The boiler capacity should be based on the Heating Load Curve or Heat Balance Diagram, and includes the heat loss in pipelines, self-used heat of boiler room, available used waste heat. While, usually, it is difficult to get the Heating Load Curve, the heating load could get based on the max thermal consumption per hour within production/heating/domestic, and then determine by using the coefficient.
2. Determine the boiler heating parameters, including pressure, temperature, etc.
3. Determine the boiler efficiency. In order to benefit for economic management, the boilers should have high thermal efficiency, and the boiler output, quantity and other performances have to adapt to the change of heat loading.
4. It is better to select the boilers with same capacity or combustion equipment. If different, the max limitation is two models, to decrease the problems of equipment layout and management.